Shoulder Eye Bolts is made of steel material, firm and durable. It can be fixed on the wood, steel plate, plastic board and other materials. Working with lifting hook and hoisting equipment, it helps to achieve rapid lifting or moving of goods. Also it can be linked with other rigging for fixing materials or equipments.
Product Features


*Material: C-1030 forged steel, C-15 annealed steel
*Finish: Mill
* Screw thread class: 2A(Imperial)6g(Metric)
*Variant resistance safety factor: 4:1
*Breaking resistance safety factor: 5:1
*Space must be reserved between screw thread and shoulder bar.
*Original made in USA, test certificate of original manufacture
*For other than vertical loads, general practice is to use 60% of the safe working load factor for a load 30° from vertical; 33% of vertical safe load for load
45° from vertical; and 20% of vertical safe load for load 90° from vertical.


Structure & Application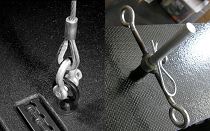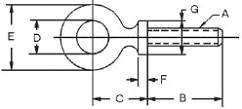 Specification
Shoulder Eye Bolts(Imperial)

Mod,lel

Max load(Lbs)

Screw Thread Specification(Inch)

B
(Inch)

C
(Inch)

D
(Inch)

E
(Inch)

F
(Inch)

G
(Inch)

18561

210

M6×1.0

25.4

20.6

19

30.0

3.9

1.5

18562

500

M8×1.25

31.7

29.4

25

43.0

4.8

17.5

18563

740

M10*1.5

35.0

33.3

27

46.0

5.2

19.8

18564

1030

M12×1.75

38.0

36.5

30

54.0

5.6

22.2

18565

1600

M16×2.0

44.5

43.6

35

65.0

6.3

27.0

18566

2860

M20×2.5

57.0

55.6

41

81.0

9.5

36.5

18567

3850

M24×3.0

63.5

61.1

44

90.4

10.3

39.7

18568

6400

M30×3.5

76.0

74.6

55

112.7

12.7

47.6

18569

8970

M36×4.0

89.0

87.3

63

131.8

14.3

55.6

18570

11960

M42×4.5

95.0

93.6

73

152.4

15.1

60.3

18571

16400

M48×5.0

101.6

107.9

82

174.6

17.5

69.8

Shoulder Eye Bolts(Metric) Short

Model

Max load
(Lbs)

Screw Thread Specification
(Inch)

B
(Inch)

C
(Inch)

D
(Inch)

E
(Inch)

F
(Inch)

G
(Inch)

18551

68

M6×1

13.0

13.0

19.1

36.5

20.0

0.023

18552

136

M8×1.25

13.0

13.0

22.2

36.5

20.0

0.045

18554

318

M12×1.75

20.5

20.5

30.2

52.4

30.0

0.163

18555

680

M16×2

27.0

40.5

34.9

63.5

35.0

0.295

Shoulder Eye Bolts(Metric) Standard
Model

Max Load(Lbs)

Screw Thread Specification
(Inch)

B
(Inch)

C
(Inch)

D
(Inch)

E
(Inch)

F
(Inch)

G
(Inch)

18501

500

1/4-20

1

11/16

3/4

1 3/16

3/16

1/2

18502

900

5/16-18

1 1/8

7/8

7/8

1 7/16

3/16

5/8

18503

1300

3/8-16

1 1/4

1 1/16

1

1 21/32

3/16

11/16

18504

2400

1/2-13

1 1/2

1 5/16

1 3/16

2 1/16

1/4

7/8

18505

4000

5/8-11

1 3/4

1 19/32

1 3/8

2 1/2

1/4

1 1/8

18506

5000

3/4-10

2

1 23/32

1 1/2

2 13/16

5/16

1 1/4

18507

7000

7/8-9

2 1/4

2 3/16

1 11/16

3 1/4

3/8

1 7/16

18508

9000

1-8

2 1/2

2 13/32

1 13/16

3 9/16

13/32

1 9/16

18509

12000

1 1/8-7

2 3/4

2 23/32

2

4

15/32

1 11/16

18510

15000

1 1/4-7

3

2 15/16

2 3/16

4 7/16

1/2

1 7/8

18511

21000

1 1/2-6

3 1/2

3 7/16

2 1/2

5 3/16

9/16

2 3/16

18512

28000

1 3/4-5

3 3/4

3 31/32

2 7/8

6 1/16

5/8

2 1/2

18513

38000

2-4 1/2

4

4 1/2

3 1/4

6 7/8

3/4

2 7/8
Other products you may feel interested:
Documents Download
E-brochure :

Shoulder Eye Bolts


Spec&Price List

:

Shoulder Eye Bolts